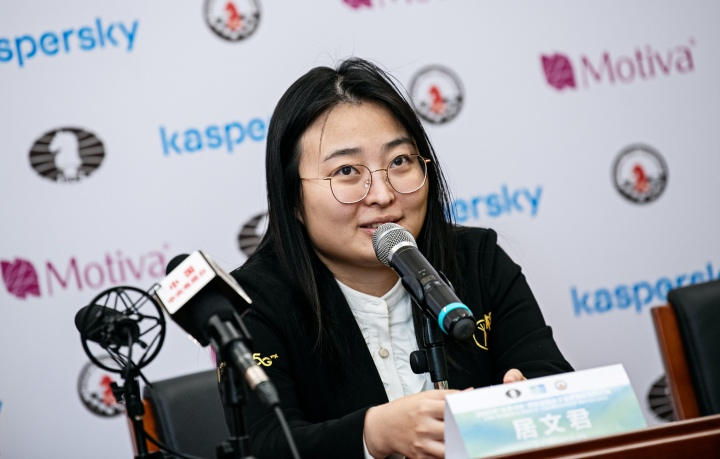 Ju Wenjun (32) successfully defended her Women's World Chess Championship title by defeating challenger Lei Tingjie (26) in the final game of the match. The match was held in Chongqing, China, and ended with a score of 6.5-5.5.
Ju Wenjun is now a four-time Women's World Chess Champion, equaling the record set by Hou Yifan. She is considered one of the best chess players in the world, and her victory is a testament to her skill and determination.
The match was closely contested, with both players playing some excellent chess. Lei Tingjie gave a good account of herself, but Ju Wenjun was simply too strong. She was able to find the right moves at the right time, and she never gave her opponent a chance to get back into the match.
In the final game, Ju Wenjun took advantage of a mistake by Lei Tingjie to build a winning position. She then played with great accuracy to secure victory.
Ju Wenjun's victory is a major achievement, and it is a testament to her hard work and dedication. She is an inspiration to chess players of all levels, and her victory will surely encourage more people to take up the game.
Summit School of Chess Congratulates Ju Wenjun
The Summit School of Chess congratulates Ju Wenjun on her victory in the Women's World Chess Championship. Ju is a role model for our students, and her victory shows that anything is possible if you work hard and never give up.
We are proud to have Ju as an ambassador for our school, and we look forward to following her continued success.
If you are interested in learning more about chess, please visit our website or contact us today. We offer a variety of chess classes and programs for all ages and skill levels.
We hope to see you soon!
If you are interested in learning more about Summit School of Chess, please visit our website at https://summitschoolofchess.com/.
Learn more @ Chess School
Special Chess Lessons for Beginners
Chess Tournaments for Kids, Chess Tournaments Near Me
Chess Camps