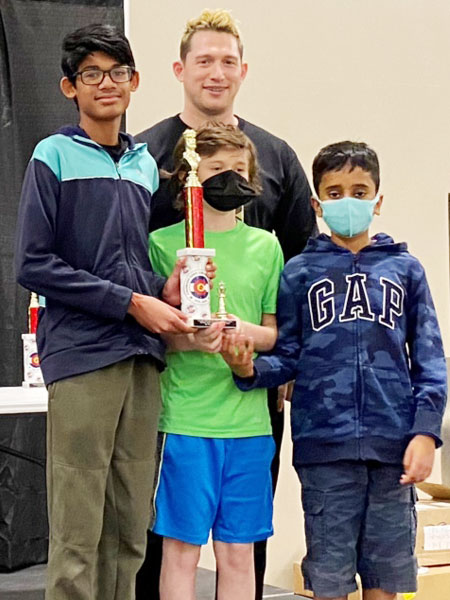 1st day of the 2022 Colorado Scholastic State Championship.
212 participants (a bit below our typical 240-250+ range but it's just coming back after the pandemic).
The situation is a bit strange because local statutes regarding mask-wearing have changed dramatically recently in Colorado especially regarding kids in schools (where mask-wearing is essentially gone outside of those kids who still choose to). A lot of the families are choosing to mask, as am I, so hopefully, we'll see what happens! The good news is that we have kids divided into enough spaced-out pods that I feel confident we'll be incident-free. I'm the tournament director of a huge K-8 division.
It's inspiring to watch the fearless chess some of these kids play – putting everything on the line, holding nothing back. It's a pretty crazy and exciting time. Crazy to see so many new chess players, unrated, playing in a state championship as their first event. Amazing to see all the interesting chess and results due to so many players' ratings no longer accurately representing their strength from pre-pandemic.
This really is one of my favorite times of the year. I love seeing how far all the students have come, all the familiar faces, catching up on all the fun adventures we've had in the last year and so much more.
 The ONLY negative thing I can say is that two of the three food trucks bailed on us. I was SO looking forward to #chueyfu showing up… oh well! 
Took over 15k steps today. 
I think it's time for a bath.
Until next time my friends,
Jesse
UPDATE!! 
Day 2: Our students from Campus Middle School took 1st place in the K-8 division making them the newest middle school state champions!!